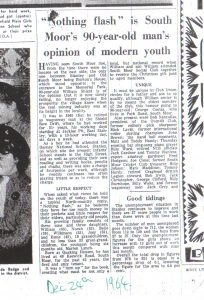 My grandfather William Shield was born to Wilkson and Hannah on 8/3/1875 at Quaking Houses. He attended Darney National School (High Street, Stanley) where he had to pay 4d per week for his education. He started work at Jackie's Pit (East Stanley), working 12 hours a day 6 days a week, but soon moved to Shield Row Pit near Quaking Houses.
He married Hannah Thompson Nicholson on 24/12/1898 at St George's Church, South Moor. They were the first couple to have their banns published at the church and the third to be married there. William and Hannah eventually had 3 sons and 3 daughters and 19 grandchildren.
William answered his country's call and joined the Northumberland Fusiliers. He was 41, the maximum age for enlistment, when he went 'over the top' on the first day of the Battle of the Somme. He was shot 4 times but survived to return home to his family and his job as a miner at Shield Row Drift. His youngest child, my mother Esme, was born in 1919. In the early 1920's the family moved to the newly built Keswick Road, South Moor in a house where I was born and still reside.
One of William's early nicknames was 'Taffy' – nothing to do with Wales but a reference to his toffee coloured hair. He was a founder member of South Moor Excelsior Club.
'Old Bill', as he was known by later, retired from Shield Row Drift as a wagonway man in 1940 and lived until 27/12/1969 by which time he was 94 years old.
Transcribed text of William Shield's letter home after being wounded on the first day of the battle of the Somme
The letter was written while recuperating at The Great Northern Hospital, Leeds on 10th July. It is amazing that the letter was uncensored given the description of trying to receive treatment for his wounds. He mentions his three sons, William, Wilkinson & Joshua, in the letter.
As a footnote the man credited with composing the tune 'Auld Lang Syne' in the 1780s was William Shield from Swalwell. Unfortunately I can find no link between my family and that William Shield.